Latest news: 12 July
It's been more than a week since I got the cast off, and I'm playing lots! I'm not allowed out of the house still, but at least I can run around and stuff. I still can't jump properly, but I'm getting heaps better! Big purrs for the doctors that looked after me :)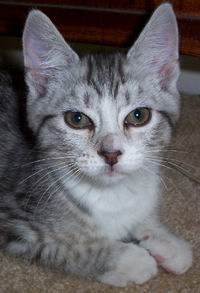 That's me!
Hello. My name is Argentia. I'm a bit of an invalid since a little accident I had, and my Daddy suggested that I should make this webpage to keep myself occupied while I got better.
I'm an eight-month-old silver tabby. I live with my Daddy, and Philippa and Arabella. Bella's a bit of a grump and always growls when I chase her tail, but I know that she really loves me.
My full name (at least the one I let humans know) is Argentia, but most people just call me Argent. Daddy says that it's Latin for "Silver", which is a great coincidence, because I'm mostly silver. I also have white socks on my footses, but apart from that, Daddy's book says that I look like an Egyptian Mau. That's because of my lip-liner and mascara.
I also like toys a lot too. Daddy and Philippa have bought me all kinds of things, but my favourites are the bits of fur that I tore off the mouse hanging from the scratching post and little balls of aluminium foil. I don't like to play alone, so I carry them in my mouth to where other people are so they can watch me play.
I love the outdoors lots, too. As soon as I was allowed outside, I stopped using the indoor litter tray, and started using the garden. I like hunting in the garden. I bring home things like skinks and grasshoppers to show everyone how good a huntress I am.
I love exploring outside. It gets me into all kinds of trouble, but Daddy and Philippa always look after me. I get stuck in the garage sometimes, and once I climbed a tree so high that I couldn't get down! Everyone was gone for hours, and a possum started climbing up after me! Then Daddy came home and it was ok. The worst thing was when I went next door to play with the dogs and went to hospital!
That's all about me, I guess. I'll put up some photos of me, and maybe a guestbook so I know how many friends there are!